San Carlos is the 10th canton in the province of Alajuela in Costa Rica. The canton covers an area of 3,347.98 square kilometers, making it the largest canton in the country. It has a population of 178,460. ranking it fifth in the nation.
Ciudad Quesada, named after the poet Napoleon Quesada, is affectionately known as San Carlos by its inhabitants.  It is nestled in the stunning and lush green valley of the San Carlos plain, about an hour southeast of Mt. Arenal and also an hour away from San Jose.   Ciudad Quesada is rich in natural beauty and verdant vegetation, situated 2,138 feet above sea level, and is a center for meat and dairy production in the north of the province.  Be sure to ask your hosts for a sample of some tasty string cheese, a specialty of the region.
With such an abundance of rich volcanic soil, agriculture and ranching are the heart of the town. This is Costa Rica's cattle country, and serves as a vital producer of beef and milk products for the entire nation. The town has a lovely central park, around which several restaurants serve simple yet delicious food. Ciudad Quesada is known for its leather goods and saddle stores, which sell specialty, high-end horseback gear at very affordable prices.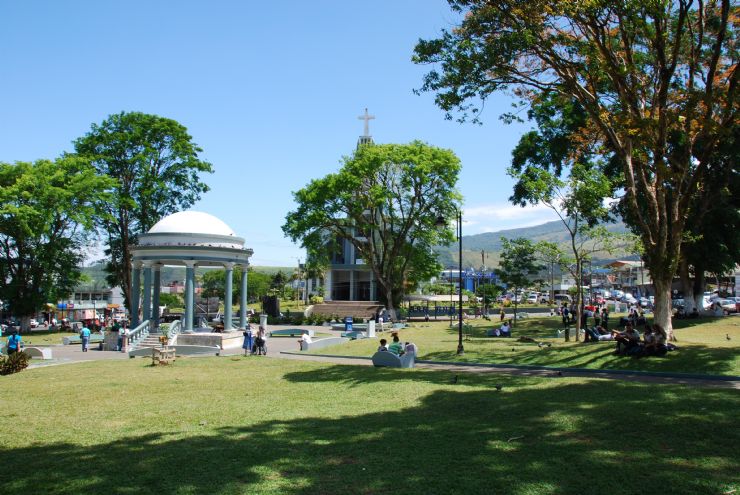 Very close to the Juan Castro Blanco National Park, and an hour away from the Arenal Volcano, this city has an excellent climate with plenty of services, as well as hospitals, schools, and universities within the town's limits.
The Partner chapter members here are an extremely fun group!  Daily activities range from touring ecological reserves (and feeding alligators and caimans!), going to gorgeous nearby thermal spas for a picnic day, touring Arenal, and even visiting with and being recognized by the town Mayor.  Renowned for their evening social activities and attention to detail, be prepared to party with these fun Ticos, who LOVE music, dancing, food and friends.  One evening when an outdoor concert was cancelled due to rain, our host Ticos improvised and the whole lot of us (16 Oregonians along with our Tico hosts) converged on another member's home to have our own music/dance party!  And at the farewell dinner they provided for us, ELVIS even appeared!  This chapter really spoiled us with their love, care, food, and friendships.
The featured photo, above, is from the Adult Cultural Exchange in February, 2017.  Pura Vida!